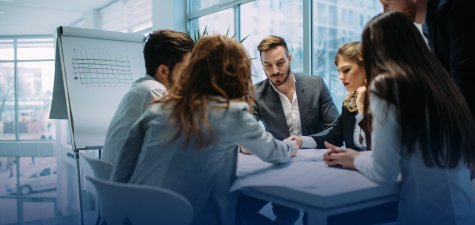 In Q1 2022, leasing activity in the Warsaw office market reached its highest ever first-quarter total and the vacancy rate began to show a downward trend, reveals real estate advisory firm Newmark Polska in its latest report "Office Occupier – Warsaw Office Market".
In Q1 2022, Warsaw reported its best first quarter result for leasing activity in history, with close to 273,200 sqm transacted, indicating that many transactions which had been put on hold, among other things, due to the pandemic were closed. Occupier activity focused on central locations where take-up reached almost 213,100 sqm and accounted for 78% of the first quarter deal volume.
"The first quarter of 2022 got off to a flying start in the Warsaw office market with the leasing activity hitting the highest ever first-quarter total and the vacancy rate starting to show a downward trend. Take-up was bolstered by several significant leases. Supply chain disruptions, rising labour and building material costs as well as the ongoing conflict in Ukraine are, however, expected to have knock-on effects on the health of Poland's economy and office market. We expect project and office construction delays amid rising costs of delivery of new office buildings and fit-out," says Joanna Bartosiewicz, Senior Associate, Office Tenant Representation, Newmark Polska.
At the end of Q1 2022, Warsaw's total office stock reached close to 6.24 million sqm following the delivery of over 93,400 sqm in six new office buildings. The largest completions included Forest Tower (51,500 sqm, City Centre North), LIXA C (19,400 sqm, City Centre West) and SKYSAWA I (8,500 sqm, the Central Business District).
"The volume of space under construction is one of the lowest in the history of the Warsaw office market. It currently stands at just under 260,000 sqm, of which close to 80% is expected to be completed by the end of 2023, with the undersupply projected for 2024-2025 now slowly becoming a reality," says Agnieszka Giermakowska, Research & Advisory Director, Newmark Polska.
In January-March 2022, new leases accounted for 27.7%, renegotiation/renewals made up 26.8% of the leasing volume while pre-lets accounted for 24.5%. The remaining 21% was spread across expansions (13%) and owner-occupier deals (8%). The expansions increased their share notably from just over 6% in 2021.
In Q1 2022, office demand in the Warsaw office market came predominantly from two sectors: financial (49.0%) and IT (17.2%). The largest lease agreements included two prelets – by PKO BP (34,500 sqm in SKYSAWA) and by an undisclosed tenant from the banking sector (30,000 sqm in Forest Tower).

At the end of March 2022, Warsaw's vacancy rate hit 12.2%, down by 0.5 pp over the quarter but up by 0.8 pp year-on-year. Looking ahead, office availability is expected to gradually decline in the coming years due to the expected supply gap. On account of rising office construction costs and service charges, fuelled largely by higher utility bills, tenants are likely to shift their focus to non-central locations.

Prime office rents came under upward pressure in Q1 2022, with landlords scaling back lease incentives, especially in locations with the lowest vacancy rates.
About Newmark Polska
Newmark Polska, a Newmark Global Partner, is a member of the Newmark Global Network. As one of Poland's premier integrated commercial real estate services companies, the group provides conflict-free tenant representation, in addition to capital markets, market research and advisory, valuation, design and project management and workplace strategy services. Newmark Polska is led by Piotr Kaszyński, based in Warsaw, with additional offices in Wroclaw, Tricity and Krakow. The team leverages Newmark's (Nasdaq: NMRK) global platform, which offers a comprehensive suite of services that seamlessly powers every phase of the property life cycle from offices around the world. To learn more about Newmark Polska, visit: www.nmrk.pl